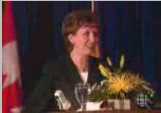 Mary McAleese Addresses Group in Saint John, N.B.
Irish President Visits Canada
Irish President Mary McAleese was in Canada last week. In her comments, she paid tribute to the over 200,000 Irish who fled the potato famine and made their home in the Maritimes. The Irish President also laid a wreath at the Celtic Cross to commemorate the 15,000 who died on Partridge Island.
McAleese said "it's hard not to feel at home", citing the many Irish names she has encounted, adding, "it's like I never got off the plane at all." Sge expressed pleasure at tne influence of Irish culture in the region.
On Saturday, October 10, Ms. McAleese was the recepient of an Honourary Doctorate from St. Mary's University in Halifax.
The President also visted Quebec and a report of her visit can be found at the web site of Montreal's St. Patrick's Society.
---
Read the article about President McAleese's visit as reported in the New Brunswick Telegraph Journal

Read about the visit on President McAleese's Web Site

. This includes her Commencement Speech at St. Mary's University.

Read more about Mary McAleese